Our unique sausage recipes have received some fantastic feedback since we opened the Rose House Butchery, which is great!  This week (w/c 20th July 2015) we are offering a great deal on our Cumberland, Lincolnshire and Breakfast sausages, which were £8.99 per kilo, now just £6.99 per kilo.  Below are some classic recipe ideas, to get your juices going!
Cumberland Sausage with Red Wine, Rosemary and Lentils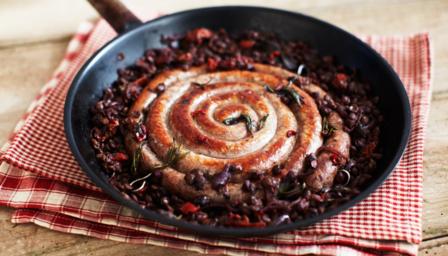 This Cumberland sausage recipe by Rick Stein, on the BBC's website, is a fantastic twist on a classic dish and definitely one of our favourites.
Lincolnshire Sausages with Red Cabbage
Another great recipe from Kinfolk, which also includes the method of making Lincolnshire Sausages, but we've taken the hard bit out for you.  This is a super quick and easy recipe, perfect for when you are just getting in from work.
The Full English
We couldn't talk about Breakfast Sausages, without having a Full English.  Check out Jamie Oliver's classic fry-up recipe for the perfect lazy Sunday morning breakfast, using Rose House Butchery Breakfast Sausages.